About Islamabad
Islamabad and Rawalpindi are twin cities with just a highway separating them. Although Islamabad is a relatively young city, the region's history spans over thousands of years. It became the new capital of Pakistan after Karachi and settlement in Islamabad began in the 1960s.
Many ancient historical sites are found around the city of Islamabad. Massive forts, Hindu temples, Buddhist stupas and Sikh Gurdwaras are all located within driving distance of Islamabad. The remnants of the Gandhara Civilization, the city of Rawalpindi, Hassan Abdal, Attock, the Salt Ranges, Kallar Kahar, and the Murree Hills, including the 'Galiyaat' are also worth seeing.
In spite of the difficult times that Pakistan is facing today, Islamabad is a thriving hub of economic and cultural activities. The city offers beautiful parks and recreational areas, breathtaking scenery, museums and art galleries, busy shopping areas, mouth watering local and foreign cuisines and a wide array of architectural wonders that are a unique blend of Islamic architecture with modern vision.
Blue Area, (Islamabad's financial center)


The Blue Area is the commercial and business hub of Islamabad, Pakistan. It is called the "Blue Area" because it was represented in a colour blue in the original design of the planned city. The area is actually a corridor that runs along Islamabad's Kayban-e-Quaid-e-Azam, Islamabad's primary arterial road which leads up to the main government buildings. The Blue Area has recently received a significant amount of foreign direct investment. Recently, construction began on The Centaurus, a multi-purpose complex in the Blue Area which will include residential and office towers, and a luxury hotel. There are many tall skyscrapers in blue area.
The Centaurus Mega Mall Shopping and Entertainment Haven

The Centaurus Mall is an iconic retail, entertainment, and lifestyle destination that stimulates visitors with its vibrant mix of retail and entertainment segments. This is Pakistan's most successful destination for shopping and family entertainment. The combination of the stunning architecture, the size, quality of shopping, leisure, and convenience will drive this mall to a commercial success and revolutionize modern shopping experience.
Daman-e-Koh & Pir Sohawa


These hills over looking Islamabad offer a sweeping, panoramic view of Islamabad. The place is ideal for afternoon and evening outing with family and friends. Its beauty is enhanced by the greenery and flowers at different sites. High quality restaurants, good food, live music, hiking trails and lush green hillsides make it a favorite place for local and foreign tourist alike.
Japanese Park/PlayLand/Islamabad ZOO

The Children Park, a gift of Japan for Pakistani children is located near Islamabad Zoo, and was established on December 30, 1985. It is popular among children, families and to those visiting Islamabad from other cities due to its park facilities and children swing facilities.
Islamabad Zoo is located at the foot of Daman-e-Koh view point. It has more than 300 animals including 200 birds of different kinds were also there for visitors, besides tigers, lions and other animals.
Comparable to 4-star hotels in Islamabad Pakistan, NewCapeGrace provides accommodation in Islamabad for the girls and boys who are looking for lodging or hostels in Islamabad Pakistan.
The mosque is situated against the backdrop of the picturesque Margalla Hills. This placement defines its importance, positioning it on elevated terraced land ensures its visibility during day and night for miles around. It is dedicated to the memory of the late King Faisal of Saudi Arabia who graciously defrayed the cost of the project as a gift to the people of Pakistan.
The mosque at its inception was conceptualized as the national mosque of the Islamic nation and was intended to symbolize the hopes and aspiration of Pakistan. The Turkish architect, Vedat Dalokay's design was selected through an international competition. The mosque's architecture is strikingly modern and unique, lacking both the traditional domes and arches of most other mosques around the world. The shape of the Faisal Mosque is an eight-sided concrete shell inspired by a desert Beduoin's tent and the cubic Ka'ba in Mecca.
Faisal Mosque has a capacity to accommodate approximately 300,000 worshippers (100,000 in its main prayer hall, courtyard and porticoes and another 200,000 in its adjoining grounds).

Jinnah Super(F-7) & Super Market (F-6)


Two of the main popular shopping markets in Islamabad that offers a variety of products for purchasing from clothing to jewelry to food. You name it and most likely, they have it.
Shakar Parian



Another wonderful place. Consist of beautiful hilly area for a nice evening walk in a green natural atmosphere.
Pakistan Monument (Near ShakarParian)




The Pakistan Monument in Islamabad, Pakistan, is a national monument representing the nation's four provinces and three territories. After a competition among many renowned architects, Arif Masood's plan was selected for the final design. The blooming flower shape of the monument represents Pakistan's progress as a rapidly developing country. The four main petals of the monument represent the four provinces (Balochistan, North West Frontier Province, Punjab, and Sindh), while the three smaller petals represent the three territories (Northern Areas, Azad Kashmir and the Federally Administered Tribal Areas). The Monument has been designed to reflect the culture and civilization of the country and depicts the story of the Pakistan Movement, dedicated to those who sacrificed themselves for future generations.

From air the monument looks like a star (center) and a crescent moon (formed by walls forming the petals), these represent the star and crescent on Pakistan's flag.

The Lake View Park (Rawal Lake)
The area around the lake has been planted with flowering trees and laid out with gardens, picnic spots, and secluded paths. The terraced garden and the lake are used for picnics, fishing and boating. The highest point in the garden offers a panoramic view of the lake, Margalla and Murree hills, Rawalpindi and Islamabad.

Boating, sailing, water skating and diving facilities are organized by private clubs.

To the west of the lake is the Islamabad Club, which offers different sporting facilities.

Also known as the F-9 park (pointing out the fact that the covered area is spread out through the entire sector) is a public recreational park situated in sector F-9 of Islamabad, Pakistan. The park is considered one of the largest (in terms of covered area) in South East Asia. The Islooites consider Fatima Jinnah Park as a healthy way to indulge themselves in a brisk 'walk' routine early morning after dawn or in the evening before dusk when the weather is pleasant.
The Lok Virsa Museum

The Lok Virsa or the Cultural Heritage Museum is a must see for all those who wish to know about the cultural history of Pakistan. It is the largest museum of any kind in Pakistan, featuring more than 25 large galleries in four blocks linked through passages depicting cultural linkages with Iran, Central Asia and China. There are large halls dedicated to architecture, musical heritage, textiles, romances, Sufi shrines and several other cultural themes.
It has a large collection of embroidered costumes, jewellery, woodwork, metalwork, block printing, ivory and bone work on display. The Heritage Reference Library of Museum has a great collection of data on art, music, history and crafts of all regions of Pakistan. Books on culture, heritage, audio and video cassettes of folk and classical vocal and instrumental music are sold at the Lok Virsa's Sales Centre. Lok Virsa celebrates the national events in a befitting manner with musical concerts, exhibitions and public film shows on cultural heritage.
The National Art Gallery Islamabad


National Art Gallery at Islamabad is the only one of its kind in Pakistan where works of art representing prominent artists are displayed permanently for viewing of public. The significant collection of these treasures of art is being collected in small rooms being turned into National Art Gallery. Almost 423 art pieces are in permanent collection, purchased or gifted by the artists for National Art Gallery.
Constitution Avenue

As Islamabad is the capital of Pakistan. All the main governemet buildings are in Islamabad. This Avenue is the main soul of Islamabad. One must visit here to see the beauty of Islambad.
Constitution Avenue also called "Shahra-e-Dastoor" is the main road where all major buildings are situated like:

1. PAK. SECRETARIAT
2. PRESIDENT HOUSE
3. PARLIAMENT HOUSE
4. PRIME MINISTER HOUSE
5. PRIME MINISTER SECRETARIAT
6. SUPREME COURT BUILDING
7. DIPLOMATIC ENCLAVE
8. CONVENTION CENTRE
The Saidpur Village



Saidpur used to be a sleepy little village lying in the foothills of the Margallas with a mystic past and breathtaking natural beauty. It has now been remodeled and tourists have described the few hundred metres drive to the village off the Khyaban-i-Iqbal as exhilarating. The resort has become popular with the citizens of Islamabad who want an occasional break from the frenzy of urban life. Surrounded with lush, tranquil wilderness, the centuries old village is furnished with rustic fittings and offers amenities like a wide range of local food outlets. Exhibitions are held regularly to show case the traditional arts, crafts and the rich cultural heritage of Pakistan.

Lotus Lake

Attend open-air theater or just sit by the Lotus lake and relax. Check to see if there are is anything happening. The schedules are entirely calendar and weather dependant.

Jasmine Garden



Located near Islamabad sports complex & Jinnah Stadium. South of Shahrah-e-Kashmir road and east of Islamabad Highway.
Taxila-A World Heritage Site
Taxila is located about 30 kilometers from Islamabad and is one of the most famous archaeological sites in the world. It has been the center of Buddhism, the world famous Gandhara sculpture and the center of learning and culture. The city was conquered by several invadors in history, including Alexander the Great in the 4th century BC. As a result, Persian, Greek and Asian influences are visible in the ruins of the city. Many monasteries and stupas have been excavated all along the Taxila valley. Taxila Museum is one of the best and most well-maintained museums of Pakistan.
All the sites at Taxila cannot be visited in a day. However, the museum, which is the first stop for any tourist, is an ideal place to visit and get an idea about the archaeological significance of the place. The museum houses one of the best collections of Gandhara art in Pakistan; a display of artefacts detailing the daily life of the inhabitants of ancient Taxila, and a useful model of the whole valley showing all the archaeological sites.
Popular Restaurants

Roasters Coffee House & Grill It is the one of the popular franchised based coffee house in Pakistan, serving gourmet coffees. To create a unique experience they have carefully designed their menu to present a unique blend of hot and cold appetizers, refreshing salads, gourmet burgers, sandwiches, unique entry and mouthwatering desserts. Roasters Coffee House & Grill has a cozy ambiance, a blend dark mahogany wood, textured walls, hand painted abstract art.

Salt 'n Pepper (Blue Area Islamabad) This particular franchised restaurant location in Islamabad has 250 plus seating with an eye catching exterior and a state of the art interior. It also has a huge parking area. The restaurant has seating on ground floor and the first floor. It also has a rooftop garden and a live B.B.Q. & Pakistani Kitchen, Burgers, Sandwiches, some Chinese and Steaks as well.. The restaurant also offers a separate children menu and also has a Children Play Area.

Tuscany Courtyard (F-7/2) Tuscany Courtyard is the new Italian restaurant in Islamabad, and is generating quite a buzz already, as they make their diners feel special by the gentle sounds of music, an ornate fountain and delicately shaded walls. The deliciously crisp air and wafts of succulent food cooking fire up the appetite.

Cinnamon Restaurant/Cafe (Beverly Centre) The newest addition to Islamabad's upper echelon eateries is the restaurant/cafe Cinnamon. Combining delectable food with impeccable service this place seems to be the right option for food connoisseurs. At Cinnamon not only do they prepare good food, they know how to present it with style.

Des-Pardes @ SaidPur Islamabad Located right in the heart of new-Saidpur village with the old-fashioned antique touch of the asian culture. Enjoy your dine-out either in the open-air or indoors at Des-Pardes.

China Town Restaurant Most well known & popular Chinese Restaurant in Islamabad and frequently crowded. The restaurant is famous for is their Firehot/Hot Pot. China Town enjoys a very loyal patronage from its customers. The restaurant has been re-located in F-8/4. It features a professional kitchen, a beautiful lounge on ground floor, a fine dining hall on the first floor, and a roof top sitting with a fantastic view of Margalla Hills. Re-launched in December 2008, the new location is already the talk of the town.

1969-The Heritage Cafe 1969 & time goes on. This theme based Restaurant in Islamabad is situated near the MONUMENT PAKISTAN, opposite LOK VIRSA, ISLAMABAD. A welcoming Restaurant with its comfortable seating (Indoor/Outdoor) & gentle lighting that suits all moods. Traditional Pakistani dishes, Mediterranean/Continental and also a selection of Seafood is available.

KC Grill (Kitchen Cuisine) (F-7) KC grill is located at a quite corner of Jinnah Super market. It is accommodated in a house which has been renovated into a restaurant. The restaurant is located on the second floor, above a reputable bakery, and is very attractive.

Olive Garden(F-7/3) A fine restaurant offering international standard dine-in along with live music, located in the known GOLL Market in sector F-7/3.

Jahangir Balti & Bar B Q (Blue-Area) is one of the most popular desi restaurants chain, situated in the twin cities of Rawalpindi and Islamabad. Jahangir started its business with a single restaurant in Saddar, Rawalpindi. So treat yourself to delicious local food and enjoy the cuisine of Islamabad.

Melody Food Park (G-6) is a great addition to Islamabad, and hundreds of people come here to enjoy food. If you are looking for budget restaurants in Islamabad then you must go to Melody Food Park where there are around 25-30 different restaurants serving food dishes of your choice.

BBQ Tonight Situated in Blue Area Islamabad, Bar-B-Q tonight offers Pakistani food with balanced spices to satisfy customer expectations for taste and value.

Hardee's (Rana Market F-7/2) Opened in Greenville, NC in 1960, Hardee's have since grown to over 1900 locations and now finally in Islamabad, Pakistan as well.. Known for its made From Scratch biscuits and charbroiled 100% Black Angus Beef & Chicken Thickburgers.

Pizza Hut (F-7) was opened in Islamabad in 2002. Located in Jinnah Super Market, you would always find it crowded with pizza lovers.

Kentucky Fried Chicken (KFC) located in Super Market (F-6), KFC has their best variety of fried chicken for all age groups.

McDonald's (F-9) Fast food restaurant at the corner section of F-9/Fatima-Jinnah Park in Islamabad.

Subway Sandwiches (Blue Area) is the largest submarine sandwich chain in the world with more than 17,500 restaurants located in 71 countries. Subway has its presence in Pakistan too. Their Islamabad outlet is located in Blue Area. They offer hot sandwich with bar-b-que chicken filling ,salads, cheese, olives and sauces.
Murree Hills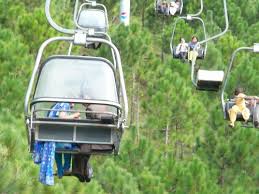 One hour scenic journey through beautiful mountains to the hill resort of Murree which is a nice place to visit especially during summers. A small place has a weather entirely different to that of Islamabad and much similar to most cities of Northern Europe. High class educational institues such as Lawrence College, Convent of Jesus and Mary,and the Presentation Convent are the hallmark of Murree. Chairlifts of Murree and Patriata, Kashmir point are attractions for tourists. A two kilometer "Mall" is the center of gravity of Murree where all the shops and hotels are located. A place worth visiting during your stay in Islamabad.
Map of Islamabad
Copyright ©2014 NeXus Grace. All rights reserved. Designed by WebTeam.